Spencerville well water update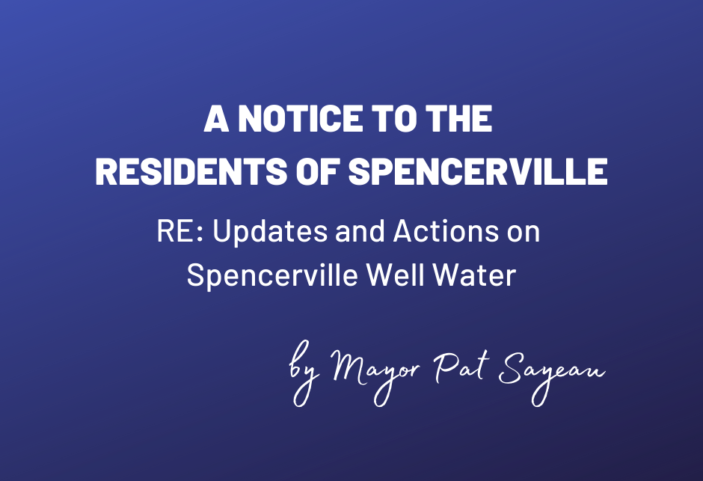 Dear Resident,
Re: Well Water Quality Testing
Several poor well water quality results have been received, including "unsafe to drink" in the vicinity of David, Charles and Cook Streets.
The Ministry of Environment, Conservation and Parks (MECP) will be in the area, tomorrow, Monday August 31, 2020 to conduct some additional bacteriological well water testing at several private locations within and outside this area. This is a cooperative effort between the Ministry of Environment, Conservation and Parks, the Leeds Grenville and Lanark Health unit and the Township in working towards determining the potential cause and extent of the poor water results and possible solutions.
The sampling will be done by Ministry personnel or township certified operators. The sampling will start around 8am and continue possibly into the late afternoon or early evening in order to maximize participation. If you are willing to have a sample taken but unavailable tomorrow, please leave a message at the township office before noon on Monday August 31, 2020 by emailing at mail@twpec.ca or calling the main office number at 613-658-3055 with the following details:
Name, address and contact information for result notification.
Whether you have an outside tap that could be used for sampling and permission for us to use the tap.
Whether you have a softener or other in-house water treatment
Alternatively, a sample bottle can be left at your house so you can take the sample and deliver to the local health unit.
The investigation and analysis of sample results indicate that the sewage collection system is "not the likely source" of the poor water quality. However, the township will be completing additional camera work in the area later this week.
The additional sampling will help to better define the problem area. We apologize for the short notice and more information will be provided as it becomes known.
The Township of Edwardsburgh Cardinal