Spencerville well water update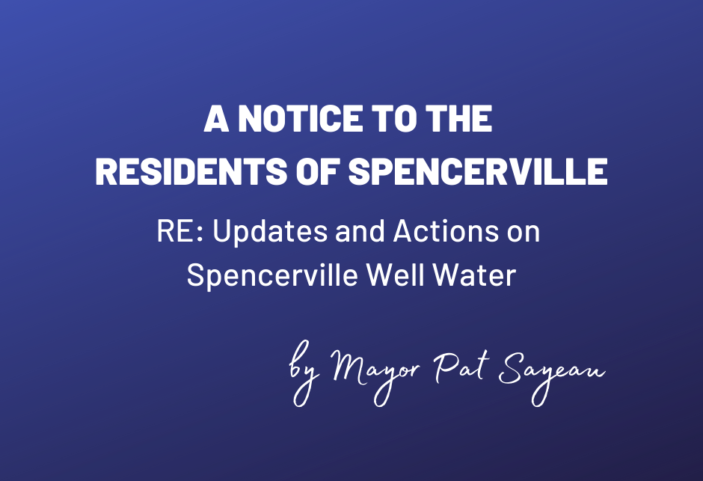 Dear Resident,
Re: Spencerville Private Well Water Quality Testing
On August 31, 2020, the Ministry of Environment, Conservation and Parks (MECP) with assistance from Township Staff, collected seventy-eight (78) private well water samples from within the Village of Spencerville to assess for potential offsite contamination sources. The water samples were submitted to either the Public Health Unit or the Ministry's Laboratory and tested for the presence of bacteriological content. Ministry and Health Unit staff have, or are in the process of contacting home owners directly, where adverse test results were returned.
Approximately 60% of the samples indicated adverse water quality. This should put local residents on notice that maintaining their well, monitoring water quality and installing water treatment (such as UV) is important in the Spencerville area.
The Township is continuing to "camera" the sewage collection system. Based on the available information and the identified impacts in recently collected water samples from the residential wells indicates it does not appear to be related to the municipal sewer or from a point source of contamination.
The Township, with assistance from the Ministry and the Health Unit will continue to assess additional information. Please see the attached letter from the health unit on next steps.
As a property owner, you are responsible for the proper operation and maintenance of your private well. Here are some basic tips below and more detailed information can be found on the ministry's public website through the following links:
Well Regulation and Well Maintenance
Well Requirements and Best Practices
Inspection/Maintenance – Annual or more frequent visual inspections in and around the well. A good time to perform the inspection is shortly after a snow melt or a heavy rain storm.
Monitor – well water should be tested at least annually and ideally four times a year (once per season). Where results come back poor, call the health unit and follow health unit guidance.
Treatment – where the ground water supply is not a stable source for quality; a water treatment supplier should be contacted to help you determine the appropriate level of home treatment. Water treatment suppliers can be found online or in the Yellow pages.
The Township will continue to make available bottled water for those residents who have received notices of poor water quality results until September 11, 2020. The bottled water can be obtained at no charge from the Spencerville Fire station (6055 County Rd 44) from 8:00 am to 3:00 pm Monday to Friday, excluding holidays.
Mayor Sayeau has stated that he "strongly encourages the residents of Spencerville to have their well water tested, and to follow the recommendations of the Health Unit on private well water".
Sample bottles for testing your well water can be picked up at any Health Unit location or the Township office (18 Centre Street, Spencerville) Monday to Friday between 8:30am and 4:30pm, excluding holidays. Filled sample bottles and associated paperwork can be dropped off at the following locations:
Health Unit Office
458 Laurier Boulevard, Brockville, Ontario
Monday–Thursday
8:30am–4:30pm (closed 12:00pm–1:00pm)
Laboratory: Kingston Public Health Laboratory
North Grenville Municipal Office
285 County Road #44, Kemptville, Ontario
Monday–Thursday
9:00am–4:00pm
Laboratory: Ottawa Public Health Laboratory
Please make sure that you include reference # LGL-2020-00011 on the sample requisition form for tracking purposes:
The results of the tests will be sent directly to the homeowner. We are however, asking that once you receive your results, that a copy be forwarded to the Township office by one of the following methods:
Email: mail@twpec.ca
Regular Mail: 18 Centre Street, Spencerville, ON K0E 1X0
Leaving a copy in the drop box at the front door of the municipal office
Dropping off in-person during normal business hours (M-F 8:30am to 4:30pm, excluding holidays)
We need your participation by providing the test results. This will assist with our study and help to provide a better understanding the general water quality in the Village of Spencerville. All information will be summarized in a public report.
Thank You,
The Township of Edwardsburgh Cardinal